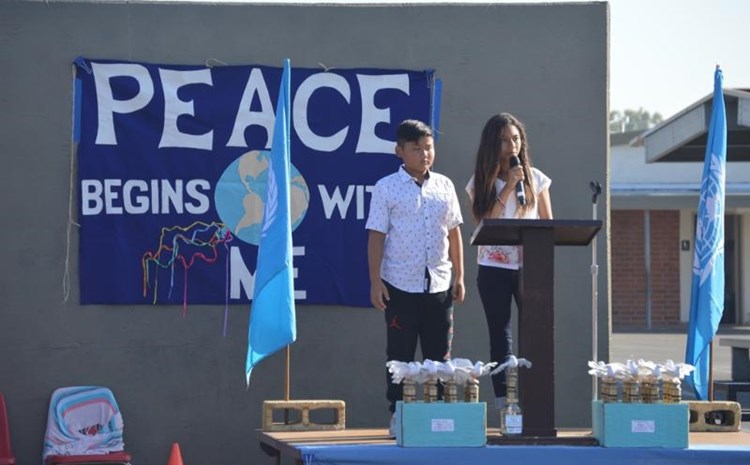 Carrillo Students Spread Peace
Each year, students at Carrillo Elementary School became Heroes for Peace. In a unique school-wide celebration commemorating the annual International Day of Peace, students portray the meaning of peace through readings, poems, musical performances, and a flag relay.
The event was brought to Carrillo Elementary School by teacher Paul Portner who spearheaded the event 30 years ago. In 1986, Portner and former student Michelle McElroy were invited to the United Nations in New York and recognized for the school peace program that spread to other schools across the country.
One of the hallmark activities of the Peace Day celebration is when Portner, McElroy, and his students release a five foot Peace Balloon, which they painted to look like the earth that floated 200 feet above the school. Each year, students raise money to donate to non-profit organizations that help people in need.
"It is imperative that we teach our kids to not only be good students, but to be kind to one another and to embrace each other's differences," said GGUSD Board of Education Trustee Lan Nguyen, who attended the event.  Last year, students donated money to the Red Cross to help people impacted by recent hurricanes.
Students also engage with the Peace Task Machine, a gumball machine that dispenses a small bead with a sticker inside asking the student to complete a simple task. The simple task is either a good deed to or an act of kindness that helps make the world a happier place. Carrillo students have been recording their good deeds and signing their names to signify their commitment to peace.